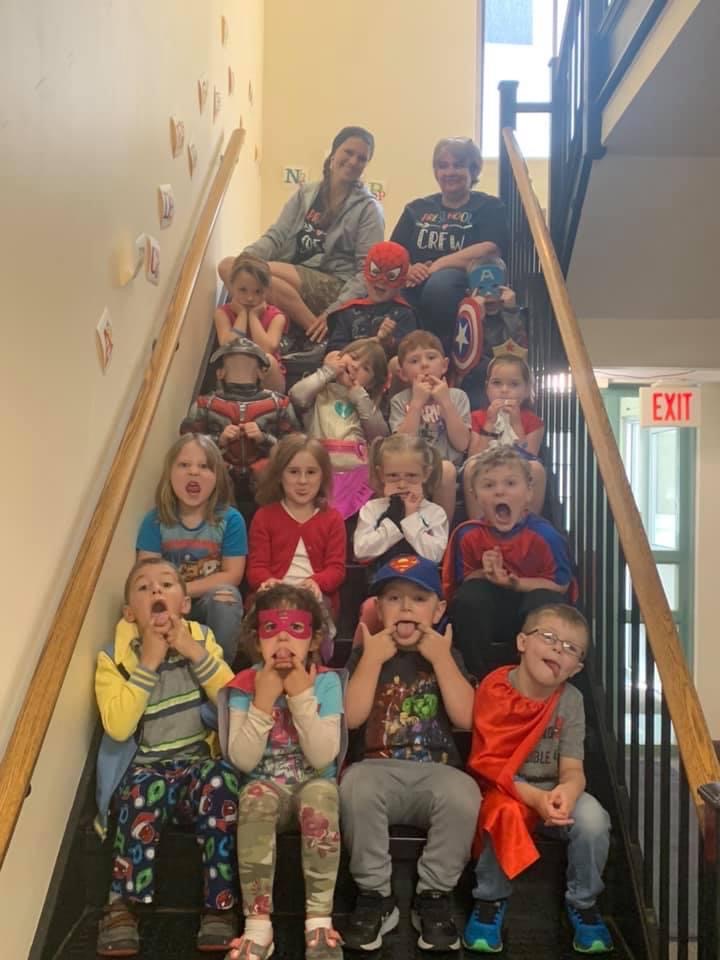 Celebrating 70 years serving the families of Glens Falls and surrounding communities
The preschool welcomes all children to participate in its programs. This would not be possible without the generous gift of our facility, utilities, administrative support, and custodial services from Christ Church United Methodist.

The staff at Christ Church Pre School brings a variety of experience and commitment to the education of young children.  Our team of educators is equipped to provide comfort and opportunities for discovery, always with mutual respect.  With careful and constant communication, the education of your preschool children will be a joyful and pivotal period in their development.  We welcome your participation in your child's education. Through a partnership between our staff and you, your children can get the social, emotional and intellectual foundation needed to succeed and thrive in today's educational system.

We're extremely excited to be planning for the new school year! We are welcoming back our 2 year old program as well as our three day program for 3s. We look forward to the exciting changes and endless possibilities as we strive to optimize potential. We can't wait to meet our new friends, and reconnect with all our returning families.

Welcome!
Igniting the spark of genius in every child
We Work to Understand Your
Kids Needs
We provide a warm and encouraging atmosphere that enhances self-concept, instills basic moral values, encourages social interaction, and enriches awareness of the natural and cultural world. We're a warm and loving community of preschoolers, teachers, and parents who inspire imagination, creativity, and play for every learner.
In an environment rooted in respect and compassion, we strive to nourish each child's spirit and provide a protective space for him or her to grow.

What is special about Christ Church Preschool
Vision & Mission Statements
Our Mission

We believe in the ability to improve the quality of life of the individuals and families across the city.

Our Vision

Our vision for Early Years is based upon the premise that every child receives the very best education.

Philosophy

We believe that a teacher-guided, balanced approach establishes an excellent educational foundation.
Prepare your child for school readiness
Feel The Difference
What gives our schools the quality you feel the moment you enter are the "pillars" of belief that support them. There are six core beliefs on which everything centers at our schools.
Experiential Learning

We help children connect with their surroundings in new ways, so they discover what is meaningful to them in the moment and in the future.

Community

A child's educational success in large part depends on families, educators, peers and relevant members of the community.

Collaboration

Sharing new experiences and solving problems with others leads to a greater sense of connectedness – as well as meaningful learning experiences.

Proven Models

Several important learning models have been developed by educators around the world. The human connection must be a key component of learning.
Get to know our staff
Dedicated Teachers & Staff
Our staff are dedicated to enhancing the lives of children with diverse special needs by providing evaluations and other services for children to achieve full and independent lives.


Miss Shannon
2 Year Old & 3 Year Old Classes
My name is Shannon Eisenschmidt and this will be my first year at CCPS. I have a Bachelor's Degree in Early Childhood/Childhood Education and a Master's Degree in Literacy. I have enjoyed working with kids for the last 10 plus years. On the weekends and time away from school, I enjoy baking, going to the lake, being outside, watching movies, and spending time with my husband and dog 


Miss Beth
Director
My name is Beth Chatham and I am the Director of CCPS. I have a history with this school, my brothers both attended as did my own two sons. I have always wanted to be an educator. I attended SUNY Potsdam and earned my BS in Elementary Education. I also hold a MST in Literacy & another MST in Special Education, both from SUNY Potsdam. I graduated from Lake George Jr. Sr. High school, where I grew up, and am raising my family in Glens Falls. I feel very lucky to be a part of our wonderful school! I am a (Hockey) Goalie & Karate Mom as well as an avid hockey fan (Let's Go Thunder).


Miss Colleen
Pre-K & 4 Year Old
I have worked at Christ Church Pre-School since 2005.  I am the mother of three, my youngest is a Sophomore at SUNY Oneonta.  I have ben involved in numerous youth groups and organizations with my own children. I am a grandmother of two.  I enjoy cooking and spending time with my family.


Miss Amanda
Pre-K & 4 Year Old
My name is Amanda Gerry and I am the Pre-K teacher's assistant here at CCPS. Working with children has been a passion of mine for well over 15 years. I started volunteering in schools when I was just a teenager continuing on to become a teacher's assistant in a variety of preschools across New York. My favorite thing about teaching is the exchange of knowledge from student to teacher and visa versa; it is never a one sided learning experience. A fun fact about me: One thing I love most in life are the colors that fill it which is why you'll catch me walking around with my hair matching a color from the rainbow.


Miss Cyndi
2 Year Olds & 3 Year Olds
My Name is Cyndi Jenks. I am very excited to be your child's teacher this year. This is my seventh year working at CCPS. I Have my Master's degree in Early Childhood, and over 15 years' experience working with kids. I left CCPS for a year following COVID, and I am so excited to be back! I am a New Mom and I think being a parent is the most amazing experience of my life thus far. My daughter is six months old, and I have a four-year-old Great Dane at home. In my free time I enjoy kayaking, camping, crafting, and most of all spending time with my family.